Educate against Hate
The UK government Department of Education needed a new platform and awareness camapign to help parents, teachers and social workers on how to communication with children on the growing influence of radicalisation and extremism
Visit website
Educate Against Hate
Services
Naming, Concept Development, Branding, Design & Digital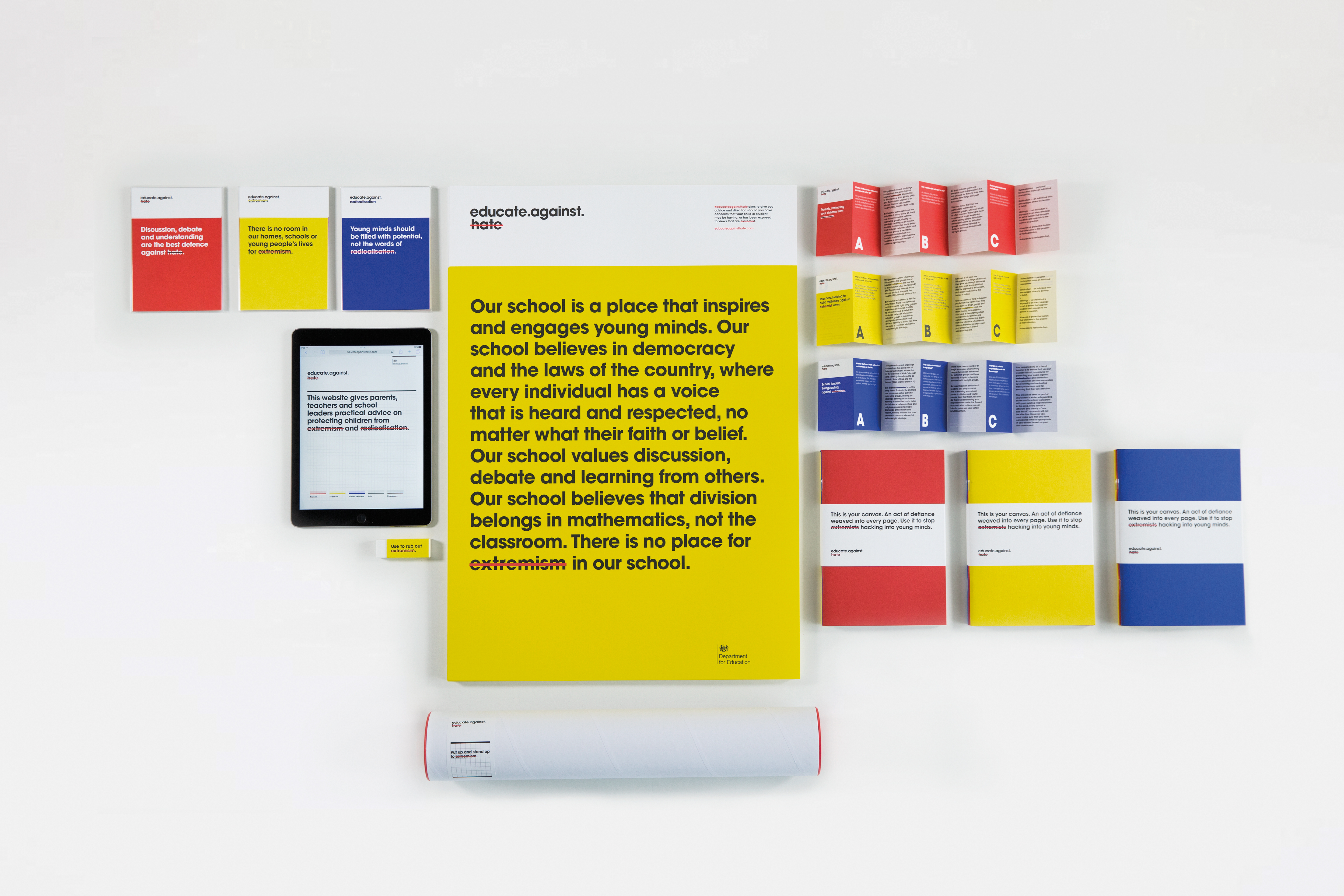 The 'Educate Against Hate' campaign provided resources, information, advice and a movement, to help parents, teachers and school leaders keep young people safe from the influences of radicalisation.

Website
Educate Against Hate
Client
HMG
Department for Education

This striking logo used a clear and bold typographical approach, as part of a much wider campaign fronted by a carefully designed website. Each word in the word mark was punctuated by a full stop to give each word greater gravitas and power. To illustrate the momentum of the Educate Against Hate brand, the word 'hate' was struck through. This device was used throughout the campaign to visually give a sense of positive change taking place, that all negativity is being removed.
Within two weeks of the campaign launch, the poster was downloaded by over 5000 schools up and down the country.
Within two weeks of launch, the website gained over 50K views – a number that has now risen to over 70K. These were generated almost entirely through two methods: organic search, effective due to a comprehensive SEO approach put in place prior to go-live; and also social media link-building, where we have cultivated a highly-engaged audience. Across Facebook and Twitter, the campaign has gained almost 3000 followers, and earned over 400,000 impressions, while campaign-related videos have received over 85K views on these platforms alone.
In special collabarion with
RM&CO
&
Matt Turrell